Worldwide, breast cancer is the most frequently diagnosed life-threatening cancer in women and the leading cause of cancer death among women.
Essential update: Study suggests that adding goserelin to chemotherapy can reduce premature ovarian failure
In a randomized study of women with early-stage hormone receptor-negative breast cancer, adding the hormone-suppressing drug goserelin to cyclophosphamide-containing neoadjuvant chemotherapy reduced the risks of fertility loss and early menopause in comparison with chemotherapy alone.[1, 2]
At 2-year follow-up, only 5 of the 66 women (8%) treated with chemotherapy plus goserelin had premature ovarian failure, compared with 15 of the 69 women (22%) treated with chemotherapy alone (odds ratio, 0.30; P = .04).[2] Patients in the chemotherapy-plus-goserelin group also had significantly better rates of ovarian dysfunction (14% vs 33%), pregnancy (21% vs 11%), and birth (15% vs 7%) at 2 years.
Signs and symptoms
Early breast cancers may be asymptomatic, and pain and discomfort are typically not present. If a lump is discovered, the following may indicate the possible presence of breast cancer:
Change in breast size or shape

Skin dimpling or skin changes

Recent nipple inversion or skin change, or nipple abnormalities

Single-duct discharge, particularly if blood-stained

Axillary lump
See Clinical Presentation for more detail.
Diagnosis
Breast cancer is often first detected as an abnormality on a mammogram before it is felt by the patient or health care provider.
Evaluation of breast cancer includes the following:
Clinical examination

Imaging

Needle biopsy
Physical examination
The following physical findings should raise concern:
Lump or contour change

Skin tethering

Nipple inversion

Dilated veins

Ulceration

Paget disease

Edema or peau d'orange
If a palpable lump is found and possesses any of the following features, breast cancer may be present:
Screening
Early detection remains the primary defense in preventing breast cancer. Screening modalities include the following:
Breast self-examination

Clinical breast examination

Mammography

Ultrasonography

Magnetic resonance imaging
Ultrasonography and MRI are more sensitive than mammography for invasive cancer in nonfatty breasts. Combined mammography, clinical examination, and MRI are more sensitive than any other individual test or combination of tests.
Biopsy
Core biopsy with image guidance is the recommended diagnostic approach for newly diagnosed breast cancers. This is a method for obtaining breast tissue without surgery and can eliminate the need for additional surgeries. Open excisional biopsy is the surgical removal of the entire lump.
See Workup for more detail.
Management
Surgery and radiation therapy, along with adjuvant hormone or chemotherapy when indicated, are now considered primary treatment for breast cancer. Surgical therapy may consist of lumpectomy or total mastectomy. Radiation therapy may follow surgery in an effort to eradicate residual disease while reducing recurrence rates. There are 2 general approaches for delivering radiation therapy:
External-beam radiotherapy (EBRT)

Partial-breast irradiation (PBI)
Surgical resection with or without radiation is the standard treatment for ductal carcinoma in situ.
Pharmacologic agents
Hormone therapy and chemotherapy are the 2 main interventions for treating metastatic breast cancer. Common chemotherapeutic regimens include the following:
Docetaxel

Cyclophosphamide

Doxorubicin

Carboplatin

Methotrexate

Trastuzumab
Two selective estrogen receptor modulators (SERMs), tamoxifen and raloxifene, are approved for reduction of breast cancer risk in high-risk women.
In patients receiving adjuvant aromatase inhibitor therapy for breast cancer who are at high risk for fracture, the monoclonal antibody denosumab or either of the bisphosphonates zoledronic acid and pamidronate may be added to the treatment regimen to increase bone mass. These agents are given along with calcium and vitamin D supplementation.
See Treatment and Medication for more detail.
Image library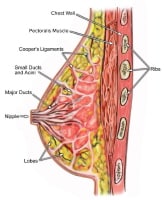 Anatomy of breast.