Prostate cancer is the most common noncutaneous cancer among males, making the diagnosis and staging of this cancer of great medical and public interest. Although prostate cancer can be slow growing, the disease nonetheless accounts for 10% of cancer-related deaths in males, with thousands of men dying of prostate cancer each year.
Essential update: NCCN updated PSA guidelines aim for balance in testing
The National Comprehensive Cancer Network has issued updated and more simplified guidelines for prostate-specific antigen (PSA) testing that seek to strike a balance between testing too seldom and testing too often[1, 2] (ie, to "maximize the benefit and minimize the harm"[2] ).
The NCCN recommendations include the following[2] :
Obtain PSA testing in healthy men aged

45

to

70

years and older.

For men aged 45-49 years with serum PSA levels below

0.7

ng/mL, retest at age

50

years.

For men aged 45-49 years with serum PSA levels above

0.7

ng/mL, and those aged 50-59 years with serum PSA levels above

0.9

ng/mL, retesting may be performed every 1-2 years.

Follow-up testing should be performed every 1-2 years for all men with PSA levels above

1.0

ng/mL.

After age

70

years, PSA testing should be individualized, and indications for biopsy should be carefully evaluated.

Refer patients for a prostate tissue biopsy when their serum PSA levels exceed

3.0

ng/mL.
Clinicians should be aware that there remain points of contention between these revised NCCN guidelines and those of the US Preventive Services Task Force (USPSTF) (2012)[3] and the American Urological Association (2013)[4, 5] regarding when men should be screened with PSA testing, when prostate tissue biopsies should be performed, and when PSA testing should be discontinued, among other issues.
TNM staging and grouping of prostate cancer
Tumor[6]
T – Primary tumor

TX – Primary tumor cannot be assessed

T0 – No evidence of primary tumor

T1 – Clinically inapparent tumor not palpable or visible by imaging

T1a – Tumor incidental histologic finding in 5% or less of tissue resected

T1b – Tumor incidental histologic finding in greater than 5% of tissue resected

T1c – Tumor identified by needle biopsy (due to elevated prostate-specific antigen [PSA] level); tumors found in

1

or both lobes by needle biopsy but not palpable or reliably visible by imaging

T2 – Tumor confined within prostate

T2a – Tumor involving less than half a lobe

T2b – Tumor involving

1

lobe or less

T2c – Tumor involving both lobes

T3 – Tumor extending through the prostatic capsule; no invasion into the prostatic apex or into, but not beyond, the prostatic capsule

T3a – Extracapsular extension (unilateral or bilateral)

T3b – Tumor invading seminal vesicle(s)

T4 – Tumor fixed or invading adjacent structures other than seminal vesicles (eg, bladder neck, external sphincter, rectum, levator muscles, pelvic wall)

NX – Regional lymph nodes (cannot be assessed)

N0 – No regional lymph node metastasis

N1 – Metastasis in regional lymph node or nodes
Regional lymph nodes[6]
Regional lymph nodes are assessed via surgical removal or through biopsy of the pelvic lymph nodes, including the obturator chain. The surgical boundaries include the bifurcation of the common iliac, the obturator nerve, and the node of Cloquet.
Distant metastasis[6]
PM1c – More than

1

site of metastasis present

MX – Distant metastasis cannot be assessed

M0 – No distant metastasis

M1 – Distant metastasis

M1a – Nonregional lymph node(s)

M1b – Bone(s)

M1c – Other site(s)
Stage groupings
The TNM system for grouping prostate cancer is based on the following 5 key pieces of information[7] :
The extent of the primary tumor (T category)

Whether the cancer has spread to nearby lymph nodes (N category)

The absence or presence of distant metastasis (M category)

The PSA level at the time of diagnosis

The Gleason score, based on prostate biopsy (or surgery)
Stage I - Cancer found in the prostate only
T1, N0, M0, Gleason score

6

or less, PSA less than 10

or

T2a, N0, M0, Gleason score

6

or less, PSA less than 10
Stage II (IIa and IIb) - Cancer is more advanced than stage I, but has not spread outside the prostate
Stage IIa - One of the following applies:
T1, N0, M0, Gleason score of 7, PSA less than 20 or

T1, N0, M0, Gleason score of

6

or less, PSA at least

10

but less than 20

or

T2a or T2b, N0, M0, Gleason score of

7

or less, PSA less than 20
Stage IIb - One of the following applies:
T2c, N0, M0, any Gleason score, any PSA or

T1 or T2, N0, M0, any Gleason score, PSA of

20

or more

or

T1 or T2, N0, M0, Gleason score of

8

or higher, any PSA
Stage III - Cancer has spread outside the prostate and may have invaded the seminal vesicles
T3, N0, M0, any Gleason score, any PSA
Stage IV - Cancer has spread outside the prostate, into surrounding pelvic organs, into lymph nodes, or as distant metastasis outside the pelvis
T4, N0, M0, any Gleason score, any PSA or

Any T, N1, M0, any Gleason score, any PSA or

Any T, any N, M1, any Gleason score, any PSA
Screening controversies
Digital rectal examination (DRE) and PSA evaluation are the 2 components necessary for a modern screening prostate cancer program. However, there is controversy regarding screening.
Advocates of screening for prostate cancer believe that early detection is crucial to finding organ-confined disease and to reducing the likelihood of mortality. When symptoms develop or when DRE results become positive, most cases have already advanced beyond organ-confined disease. However, those who do not advocate screening worry that screening will detect cancers that are not biologically significant (ie, in patients who will die with prostate cancer rather than from it).
The American Cancer Society (ACS) recommends that PSA evaluation and DRE be offered annually, beginning at age 50 years, to men who have at least a 10-year life expectancy, and that they should be offered as early as age 40 years to high-risk men. Information should be provided to patients regarding potential risks and benefits of intervention.
A 2008 US Preventive Services Task Force (USPSTF) statement recommended against screening for prostate cancer in men aged 75 years or older.[8] In 2011, a USPSTF draft statement recommended against PSA screening in men of all ages who do not have symptoms considered highly suspicious for prostate cancer. Based on reviews of screening trials (including the Prostate, Lung, Colorectal, and Ovarian [PLCO] Cancer Screening Trial and the European Randomized Study of Screening for Prostate Cancer [ERSPC]), the task force concluded that PSA-based screening results in little or no decrease in prostate cancer–specific mortality and that the benefits of such screening do not outweigh the potential pitfalls of resulting evaluation and treatment (eg, surgery-related erectile dysfunction and urinary incontinence).[9]
Signs and symptoms
With the advent of PSA screening, patients report the following local symptoms:
Metastatic symptoms of prostate cancer include the following:
Weight loss and loss of appetite

Bone pain, with or without pathologic fracture

Lower extremity pain and edema

Uremic symptoms
Diagnosis
Laboratory studies
PSA screening: Controversy exists regarding PSA level cutoffs and reference ranges

DRE: Serial examinations are best; clues to the patient's condition in conjunction with PSA levels include presence of a nodule, as well as asymmetry, texture difference(s), and bogginess of the prostate, seminal vesicles, and adjacent organs

Biopsy(ies) and histologic examination: These aid in the diagnosis and help to determine the Gleason score; a biopsy can also help differentiate a cyst or calculus from cancer foci
Imaging studies
Computed tomography (CT) scanning: To assess extension into the bladder and lymph nodes for staging the cancer or for considering pretreatment lymph node sampling

Endorectal magnetic resonance imaging (MRI): To localize cancer within the prostate and seminal vesicles; to help in local staging

Bone scanning: To evaluate bone metastasis

MRI: To determine the etiology of questionable lesions found on bone scans

Transrectal ultrasonography: To examine the prostate for hypoechoic areas, which are commonly associated with cancers but are not specific enough for diagnostic purposes
Men with PSA levels above 10 ng/mL, high-grade histology (Gleason score of ≥7), or physical findings suggesting stage T3 disease should probably undergo a staging CT scan and bone scan. Neither CT scanning nor MRI can be used to determine if lymph nodes are reactive or contain malignant deposits, unless the nodes are significantly enlarged and a percutaneous biopsy can be performed.
Image library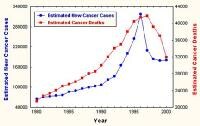 Estimated incidence of and mortality from prostate cancer. Courtesy of the American Cancer Society.